Packaging Optimization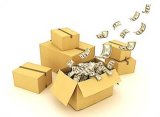 A Category Management Solution For Packaging
What if the pricing of your packaging categories was based on accurate and current specifications and competitively sourced?
Paladin's combination of Packaging industry veterans and Sourcing professionals can provide a cloud-based specification database and use leading-edge Sourcing techniques to drive lower acquisition cost. An added right-sizing process yields additional savings from specification improvements.
Our Team Works For You
Identify and Update Packaging Specifications
Eliminate Waste and Packaging Redundancy
Introduce New Packaging Materials
Reduce Product Damage
Reduce Inventories
Streamline Supplier Processes
Smaller Packages = Lower Shipping Costs

Four Phase Process
Specification Documentation - A combination of Technology and Services to document and maintain specifications in SpecBase, a cloud-based database.
Sourcing - Leading edge e-Sourcing Technology combined with Sourcing professionals with extensive Packaging experience.
Right-Sizing - A process that evaluates every aspect of packaging related to total cost including design, storage, transportation, handling, procurement process and supply.
Change Management – A process to continually update packaging specifications in the SpecBase database to ensure specifications are correct.
More Information from our Packaging Experts
Packaging Optimization Client Outcomes: