Influencing Change
The Solution to Supply Chain's Change Challenges

Sound familiar?
Floundering organization transformation
Unacceptable savings leakage
Elusive spend categories
Lagging technology adoption
Failed projects
Perhaps your approach to change is too narrow, focusing only on strategy, processes, structures and systems. Does your organization resist change hoping this is just another flavor-of-the-month initiative? Influencing Change can help.
Failed change efforts carry a high cost
wasted dollars
lost opportunities
damaged reputation
frustrated employees
organizational cynicism
There's a better way: Influencing Change. Contact Our Change Experts >
Unlike traditional change management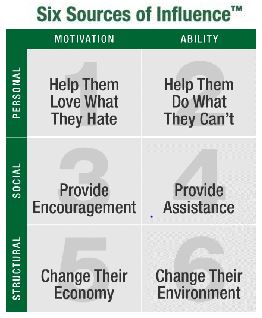 Influencing Change is a revolutionary change management methodology that works by:
identifying status quo behaviors that subvert change.
developing a comprehensive plan for successful, sustainable change
narrowing the focus to vital, high-leverage behaviors that pave the way for change.
employing Six Sources of Influence to make change inevitable.
Influencing Change helps you…
successfully lead Supply Chain-driven change initiatives.
reduce errors and Supply Chain project failures.
diagnose root causes and create effective solutions.
extend your influence across an organization — with or without formal authority.
transform Supply Chain culture.
What is Influencing Change?
Influencing Change stems from a partnership with VitalSmarts and brings to Supply Chain the ground-breaking and award-winning Influencer methodology.
Based on 50 years of research, Influencing Change analyzes the targeted change initiative to uncover the organization's deep-seated, status quo behaviors. These habits, attitudes and actions undermine an organization's best efforts, no matter how critical or expensive the desired change. Research proves that applying this approach increases success rates tenfold!
Influencing Change includes…
a two-day on-site training program that teaches the Influencer methodology and skills, uncovering vital behaviors and developing six source strategies for success.
instruction in the application of skills and methodology to get a start on your personal influence challenge plan.
a combination of live training, compelling videos, and a written toolkit to ensure success.
More information from our Change Experts:
Empower, Create, Transform