Marketing Expense Services
A Procurement Goldmine
We help clients drive better value from Marketing Expense suppliers:
Are your agency fees appropriate for the work and the agency staffing?
How do your agency's fees benchmark compared with other companies?
Is your agency compensation model driving best results? Should you use performance incentives? What agency performance metrics are best?
Who's doing what in terms of best-in-class agency management practices?
Are you using the best agencies and suppliers for your company?
Should you use the holding company model when selecting agencies, or best-of-breed approach? Big agencies or independents? Global or local?
Are your below-the-line agencies and suppliers as efficient as they should be?
What about audits of time and material contracts?
We leverage deep experience to deliver results across all marketing areas: creative, media, digital, social, PR, promotions, on-premise support, etc.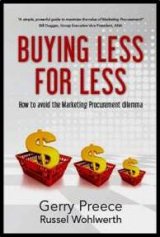 Gerry Preece's book explains exactly why Marketing Expense is different than anything else Procurement touches, and what Procurement must do to be effective in this unique space (available on Amazon.com)